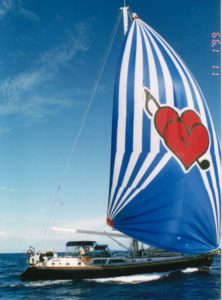 Heartsong III is hull #1 of the Hylas 54 performance offshore semi-custom cruising series built in Taiwan by Hylas Yachts and designed by German Frers of Buenos Aires, Argentina.  The Hylas is built by the Huang family of Queen Long Marine, Kaohsiung, Taiwan.
Upon its introduction, the Hylas 54 was named Full-Sized Cruising Boat of the Year by Cruising World magazine.  In late 1999, Heartsong III was named one of the top 50 custom American cruising yachts by Ocean Navigator magazine.  For our unpublished review of the boat's design and performance after 10,000 miles, read our open letter to Hylas Yachts.  In early 2003, Blue Water Sailing magazine published our review of the boat after her Pacific crossing ("The Hylas 54 after 20,000 Miles").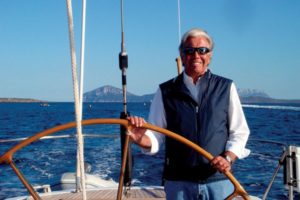 German Frers, designer of Hylas and Swan yachts, also led the design  team for the Italian IACC racing boat Prada, which won the international America's Cup challenger series in New Zealand in 2000.
On our watch, Heartsong III sailed over 37,000 blue-water miles, circumnavigating from Florida to Florida via the South Pacific, Red Sea, and Mediterranean. Her best noon-to-noon day of 215 nautical miles was logged between Tonga and New Zealand, on reaches between 60 and 100 degrees, in 20-30 knots of wind with beam seas of 2-3 meters. Highest speed sustained for 10 minutes or longer is 12.1 knots through the water. That speed was achieved under single-reefed, poled-out Genoa flying alone, with 35-knot winds directly astern and 3-meter quartering seas. Highest speed sustained for one hour or longer is 10.5 knots through the water and over ground, under single-reefed jib and main in 25-30 knots of wind abaft the beam, with confused seas of 2-3 meters. Average cruising speed under sail in 5 years of widely varying conditions is 7.9 knots.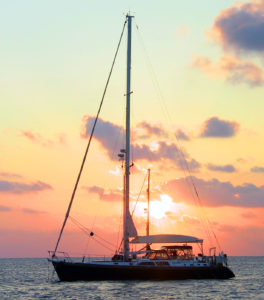 According to the builder's specifications: The boat's overall length is 55.5 feet, and length at the water line is 45.93 feet. Displacement is 47,184 pounds in light condition. Maximum beam is 16.1 feet, and the draft is 7.5 feet.  The hull is made of fiberglass and twaron, a kevlar-like material. The center-cockpit sloop (with retractable staysail stay) is rigged for short-handed sailing.  Rigging is by Tom Sharkey, then of Norseman Marine, Ft. Lauderdale, and now of Selden USA.  Sails are Vectran™ by Hood Sails.
The hull is awl-gripped dark blue with gold cove stripe and red boot stripe.  The deck is fiberglass and twaron, with gel-coat and non-skid, varnished teak handholds and an oil-sealed toerail.  Each major portlight is fitted with Lexan storm shutters.  At the stern, teak steps serve as a dive platform, with storage and a fresh-water shower underneath. The hard dodger and bimini enclosure, in Captain's Navy Sunbrella and clear vinyl, are designed and fabricated by Andy's Canvas of Ft. Lauderdale.  Additional covers are by Keith's Canvas of Trinidad, and by Dodd's Trimmers and Gulf Harbour Sails and Canvas, both of Whangaparaoa, New Zealand.
Electronics design and installation are by Concord Marine Electronics of Ft. Lauderdale.  Electrical system design modifications are by Lamplighter Marine Electronics of Ft. Lauderdale.  Additional electronics installation is by Whangaparaoa Engineering of New Zealand.  For a complete equipment list, click here.

Belowdecks are 3 private staterooms (one king, one queen, one double) and 2 heads with separate shower stalls.  The double berth folds back to a stainless steel work bench. In the main saloon is an eight-seat dinette and settee, which pulls out to become a wide pilot berth.  The L-shaped navigation station is fitted out with computer desk, adjustable captain's chair, and office storage.  For a sketch of the interior layout, click here.  For more photographs of the boat, click here.
The "alley" galley's pantry can accommodate approximately 90 days' provisioning, with an additional year's provisioning in deep stowage elsewhere on the boat. The interior is primarily teak, with royal blue upholstery and carpeting.  Galley countertops are Wah-Lee stone, a corian-like material.  The sole is teak and holly, with all portable pieces having stainless steel lock-down devices to prevent dislodging in the event of a roll.  Interior decoration is by Cindy Somerville and Robert Alvarez of UFO Fabrics, Ft. Lauderdale, and by Sue Reed of Whangaparaoa, New Zealand.  Additional interior woodwork is by John Francois of Trinidad and Grant Symmans of Auckland, New Zealand.
The "III" in Heartsong III's name exists because we had two previous boats named Heartsong, and we're not very creative.  🙂  Sailing her around the world has been a song of the heart.