July 1999
Dear Dick Jachney & Joseph Huang, et al.:
In 1996 and 1997, we must have looked at 50 new and used boats in our quest to find the right offshore sailing vessel for our adventure of a lifetime — a five-year double-handed circumnavigation. We were every broker's nightmare until we decided to entrust you with building our dream boat. After living on Heartsong III for more than a year and 10,000 miles, we think it's about time that we said thanks.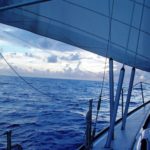 Every single day — every single day — we discover something on this Hylas 54 that is so exquisitely conceived, or that is built so much stronger than it had to be, that we are thrilled all over again. From the smallest ingenious nuance (and they are apparently infinite) to the most fundamental structural component (and our surveyor confirms their integrity), this … boat … is … awesome. She is eminently comfortable — at the dock, at anchor, and at sea under every condition we've experienced so far.
And fast. Look at the power of that bow wake in the photos. I won't even try to express the elation that I feel when we're under sail. On an overnight reach from Tobago to Trinidad, we double-reefed both sails in 15-18 knots of wind to avoid arriving before dawn's light, and we still couldn't keep her under 8 knots. Most importantly, though, we are confident after many passages, including the 3000-mile Pacific crossing, that she is solid, safe, and forgiving.
Alan, who has been looking over my shoulder, wants to express his particular gratitude for watertight bulkheads, integrated storm shutters, a magnificent short-handed rig that almost never requires venturing from the cockpit offshore, and a fast twaron hull that both points well and is bullet-proof.
Not to mention beautiful. The other day, Alan and I admitted to each other that when we first started looking for the boat, one of our unarticulated requirements was that its very appearance had to give us a certain tingle — a small but delicious chill of appreciation. With this boat, we feel it. Daily. (We still get a steady stream of "wow!" compliments wherever we go.)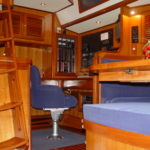 As an added plus, the space-enhancing interior design allows me to have all the storage and labor-saving devices a high-maintenance urban transplant could want. I have an office with a computer desk integrated with the nav station that is just as functional as my office ashore. I have a shore-sized shower and head. I have total access to check and change the oil on the engine and generator with no bodily contortions whatsoever. I have space to entertain 20 people in the main saloon. My family and friends can visit in comfort and privacy. I can provision for three months in the galley alone, with a full year's supplies elsewhere in the boat. I have a washer/dryer and 500 gallons of fresh water and fuel. I am a happy woman.
You let us say exactly what we wanted, and — with only minor tussles and a little perseverance — we got exactly what we wanted.
This is our fourth boat. Before we moved aboard Heartsong III in March 1998, we were moderately experienced cruising sailors. In 1983, Alan cruised the Mediterranean and crossed the Atlantic in a 29-foot wooden Golden Hind that he and a friend rebuilt from stem to stern. For the ensuing 14 years, we have sailed the Med and Caribbean at every vacation opportunity, mainly on our 44- and then 51-foot sloops. We have spent years storming boat shows, devouring sailing literature, and keeping comprehensive notes.
Based on our experience, we believe that the Hylas 54 is everything one could ask in a blue-water cruiser. You have balanced safety, speed, comfort, and aesthetics without compromising a darned thing. Furthermore, you have executed the design with engineering expertise and workmanship that is unequaled (as we know from two years of intense boat-shopping) on boats of twice the price and reputation. We are sincerely awed and humbled that we have the great good fortune to own a Hylas 54.
Thanks, Dick and the Jachney family and CYC staff. Thanks, Joseph, Michael, Jane, and the rest of the Huang family and Queen Long Marine staff. Thanks, German Frers and your design team. Thanks, Sam and Charlie Lewis and all the commissioning contractors on whom you daily ride frustrating herd. We are forever in your debt.
And for the record, as you know, we're not getting a thing in return for saying nice things about you. We just feel that credit should be given where credit is due.
Sincerely, Liza & Alan, Heartsong III