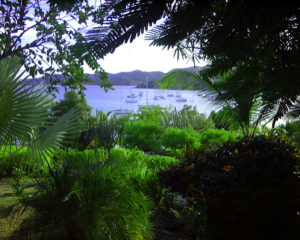 Below is a copy of an off-the-cuff guide I wrote back in the early 1990s for some friends who were chartering in the Virgin Islands.  Be aware that some of the info will be very dated.
One more caveat: I wrote this long before my first multi-day bluewater passage, years before we left for our circumnavigation.  Please be kind.
The bottom line is, however, that after sailing around the entire world, we can recommend no better place for a bareboat sailing vacation than the Virgin Islands.
MEMORANDUM
DATE: August 1992 (updated somewhat August 1994)
ST. THOMAS
We usually leave St. Thomas as soon as we can and head for the other islands. What with the cruiseliners' disgorging unlimited numbers of tourists, and the dearth of truly pretty, quiet anchorages, we're outta there. But St. Thomas does have some major attractions for those who are not–as we usually are–completely burned out on the civilization thing. For starters, aficionados rave about the duty-free shopping–jewelry, perfume, liquor, all the basic vices. The shops are conveniently grouped in about a 4-square-block area just north of the oceanside boulevard and smack in the center of town. They keep island hours: 10 to 5, generally, and closed on Sunday. Another plus is eating out. In addition to Wendy's and Kentucky Fried (!), there are at least two superb restaurants: Hotel 1826 and Top of the Mark. (OK, it may be Hotel 1846 and The Mark Hotel, but this will get you close enough.) Both places, by the way, have interesting and comfortable rooms if you need to overnight on land here. Hotel Whatever-Year-It-Is is owned by a backgammon champion and caviar enthusiast. The bar, which is great for spending the late afternoonapres-shopping, reflects both of his interests. Particularly comfortable, scenic, and relaxing–although about 20 minutes from town by kamikaze taxi–is the Secret Harbour Hotel. For overnighting on the boat, don't anchor in the main part of the harbor where the cruise ships are. Come on around the horseshoe in the general direction of the airport until you see all the other yachts at anchor. The further southwest you go, the quieter it is.
NOTE ON BOOKS
We rely heavily on two books: The Yachtsman's Guide to the Virgin Islands and The Cruising Guide to the Virgin Islands, both small, spiral-bound, and un-waterproof. Either book will do. Your charter company will almost certainly send them on request.
NOTE ON SAILING
There are usually prevailing winds from the south, but the wind occasionally shifts around. The only really strong currents are from east to west down Sir Francis Drake Channel, and south to north out past Virgin Gorda to the east, where you probably won't go. The sailing can get very exhilarating between Tortola and Jost Van Dyke, and north of Virgin Gorda. We have had to reef our sails only once for a tiny squall that we should probably have just ridden out and enjoyed. Overall, the sailing is smooth and reasonably fast here. The locals hold races regularly, but we have never participated, being more gunkholing than racing types. The weather forecast is broadcast on VHF radio every couple of hours.
NOTE ON PROVISIONING IN ST. THOMAS
Do NOT let your charter co. provision for you. You will end up throwing a lot of stuff away and not having the stuff you end up wanting. Instead, stop at the local Pueblo supermarket, or head to the gourmet shop at the marina on the way into Charlotte Amalie from the airport.  We usually eat out at least half the time, but restaurants are VERY expensive for what you get, with a few notable exceptions, which I will mention as I go. Not the least of St. Thomas's advantages is that is has the least expensive provisioning, including liquor, in the islands. The Pueblo is open 24 hours a day. Don't accede to your taxi driver's suggestion that he wait for you while you shop: taxis are cheap and plentiful outside every market.
NOTE ON SCUBA
If you dive, you can either rent your own equipment for the week from a St. Thomas dive shop (cheaper than out-island) or take guided tours from dive companies who will come to your anchorage and pick you up. Usually, we can get 2 full scuba kits for the week for about the cost of 2 guided trips, so we rent the equipment. I have to say, though, that the diving in the VI is not stellar. The best places are so shallow that a good snorkeler can get the same degree of enjoyment. If you are a serious diver and think that anything short of Cozumel is a waste of time or money, I'd say don't bother. We just like getting down there with the fish, so we almost always rent equipment for the week so we can go over the side anytime we feel like it. We usually get the equipment from a little shop at Compass Point next to the company that charters our boat. The best places we have found to dive are, in order of my preference, Loblolly Bay, The Rhone (wreck), Scrub Island, Angelfish Reef (near Manchioneel Bay), and the Indians.
ST. JOHN
Caneel Bay
Perfect first-night anchorage if you leave St. Thomas relatively late in the day. Generally good holding for the anchor. For good protection from the surge and maximum hedonism, try to position yourself even with the first small beach west of the resort's dinghy dock and anchor in about 12-20 feet of water as close to the beach as you think prudent. We consistently find great snorkeling and virtually private beaches with crystal-clear water. Last time we were there, a really big barracuda (5-7 feet, depending on who's telling the story) camped out underneath the boat. It was fascinating to watch it. It's a short but sometimes rough dinghy ride to Cruz Bay for town-type fun, including great steel-band dancing and some passable Tex-Mex outside on the square. Renting a jeep to see the ruins of sugar mills is generally not worth it.
Cruz Bay
Do not anchor here. Dirty and loud. Much better to dinghy in from Caneel.
Hawksnest
Not a good overnight anchorage (too rolly, ESPECIALLY in winter), but super way to spend the morning or afternoon. Usually very private. Good snorkeling by east beach and at the far west end of the cove. Water is an amazing shade of turquoise up by the east beach. Anchor as close as possible to the reef there in good-holding sand.
Trunk Bay
Not a good overnight anchorage (too rolly) but good stop for lunch. Amazing, huge, beautiful beach. Little shack with great burgers behind beach through the trees. Also a T-shirt shop. The beach can get crowded with land-staying tourists. "Snorkel trail" mentioned in guidebooks is definitely overrated and overtouristed.
St. Francis Bay
Pretty and quiet, but not the most beautiful spot to choose. Well-protected overnight anchorage, if the wind is up at all. Good place to windsurf. On still nights, it gets a little buggy close in.
CAUTION NOTE
When sailing around these bays in St. John or from St. John to any island to the north, WATCH OUT FOR JOHNSON'S REEF. Every year, we hear that some poor charterer has run up onto it.
NOTE ON THE SURGE
For some reason, there is a surge from the north/northeast during the winter. Any anchorage that is exposed in this direction will be MISERABLE for the night. The surge sometimes runs in the summer, too, people say, but we have never really felt it in May when we have been down.
TORTOLA
West End (Soper's Hole)
The best, fastest place to clear customs into the British VI. (Your charter co. will probably say Jost Van Dyke is easier, but I personally think that they are wrong.) You can pick up a mooring here if you are tired of setting the anchor. The little Pusser's Rum place is GREAT for drinks (try the Painkillers there) at sunset, but I think the meals are not good value. On weekends in mid- and low season, and every night in high season, they have some sort of band to dance to–usually a steel band. The shops are interesting here–some unique local stuff. You can rent scuba here and get fresh water and ice. Also, there is a great little provisioning shop with more upscale stuff than the Pueblo on St. Thomas. If you really want a treat, take a taxi to The Sugar Mill on Long Bay for lunch or dinner–the only true gourmet cooking in the Virgins, with prices to match, of course, but worth it. (You can also reach this restaurant fairly easily by taxi from Cane Garden Bay.) The shops here have unusual and fun souvenirs.
NOTE ON BANDS IN THE VI
Usually pretty pathetic. Steel bands playing "Just the Way You Are" and "You Are the Sunshine of My Life." However, after a couple of Painkillers, they are fun to dance to. If you can stick it out to the end of the evening, the crowd thins out to locals only, and the music gets a lot more interesting.
Cane Garden Bay
Good for day anchorage, but not for night IF the surge is running (and it ALWAYS does from December until at least late March). Interesting beach bars. Pretty beach.
NOTE ON RESTAURANTS GENERALLY
BRING CASH. Many places do not take credit. Always radio in for reservations in advance; the restaurants prefer to know that you are coming, even if they know only half an hour in advance. Only 2 places require coat-and-tie for dinner: Caneel Bay and the Peter Island Yacht Club. (We avoid these restaurants on principle.) All other places are happy to serve you in shorts and sandals. The West Indian curry is unusual and generally great, except for some reason at Cooper Island Beach Club, where I think it tastes canned, although my husband disagrees.
Trellis Bay
This anchorage is usually pretty crowded and has a large power cable running through it that your anchor must avoid. But it is a handy alternative to Marina Cay (below) and the home of the Last Resort. That very eccentric place serves a buffet of traditional English food for a very reasonable price, and it throws in corny, bawdy piano-bar entertainment by the proprietor. The trick to enjoying his music is to be a little bit drunker than he is–not an easy task. I'm sort of embarrassed to admit that I always have a good time here. Excellent shelter for the night. No services last time we were there.
Marina Cay
Nice little overnight. Mooring balls. All services, including ice, water, fuel, and some basic provisions. Near enough to the Scrub Island dive site to dinghy over. Great place to windsurf. Pretty, but not drop-dead beautiful like Caneel Bay. Good place to spend the night before or after spending the day at The Baths. The view of the stars from the top of the hill is magnificent. Sometimes a small bar is open at the top of the hill, and it is great to sit up there and watch the world below.
JOST VAN DYKE
If you can time your visit to Jost Van Dyke to coincide with New Year's Eve, then you will experience one of the most unique experiences in the Caribbean.  Be prepared to raft with the boats on either side.  Be prepared to party.
Great Harbor
At least, I think that's its name. One place to clear into BVI.
Also here is Foxy's, an awesome beach bar that sometimes has music. There are other thatch-roofed bars and restaurants here also, including a wonderful all-you-can-eat lobster buffet. The anchorage is well-protected in all weather, but we have had trouble with dragging our anchor twice there now. The holding is not great. I heard that they dredged the bottom recently, though, so the holding may have improved. Watch out for the reef coming straight off the beach for a good ways out. I have seen people swimming in this bay, but I wouldn't want to. The anchorage is less built-up, more rustic, more local than some of the prettier areas with more convenient facilities. We always have a good time here, except for the hour and a half we spend at midnight resetting our anchor.
Little Harbor
We have heard that this bay is a fun place to overnight.
White Beach
NOT a good overnight anchorage in most conditions, but a beautiful and relatively secluded beach during the day, with good snorkeling unless the weather has kicked up the silt, obscuring the visibility. You can get here for the day in three ways: 1) anchoring, but you must do so outside the reef, which extends quite a distance from shore; 2) by dinghy from Great Harbor (which we have done, although not wonderfully comfortably), by threading a small visible opening through the reef; or 3) overland, by walking over the hill from Great Harbor. All things considered, number 3 is probably the preferred way, not least because it provides a little land exercise. There is a very small inn and restaurant on the beach, with hammocks that I enjoy particularly.
GREEN CAY
This tiny island is a fun day stop. The snorkeling is sometimes great and always at least good. One of our boatmates saw a school of several large barracuda here. It's not comfortable to be aboard here if the surge is running.
SANDY KEY
Generally ditto. Beautiful lunch stop, with great snorkeling.
ANEGADA
One of my favorite destinations, although some charter cos. have made this island off-limits because of the number of accidental run-ins with its reef by inexperienced charterers. Unlike passage among the other VI islands, the run to Anegada requires actual navigation. The best idea is to get within eyesight and then call the Anegada Reef Hotel, who will then guide you verbally to the first buoy of the entrance. The reef surrounding this island is EXTREMELY DANGEROUS. The excellent scuba diving here of wrecks (hundreds of them, from hundreds of years ago to a 70-footer lost last year) attests to the reef's danger. The mooring balls are in about 6 feet of water, so check the chart and your depthsounder very carefully.  Or you can anchor farther out on a fairly tricky seaweed and sand bottom.
Ashore, there's sand, scrub, a small hotel, an honor bar, and an interesting shop with Caribbean spices and condiments as well as the usual stuff. The restaurant has a delicious nightly beach lobster barbecue, which you have to reserve by midafternoon if you intend to partake. Do not miss the trip to Loblolly Bay–absolutely the best snorkeling and scuba in the Virgins. We have seen schools of hundreds of baby barracuda, 10-foot sharks, huge groupers, and colorful and abundant reef life. The down side is that there is a seemingly interminable ride in the hotel jeep across the island to get there, but there is a fun beach snack bar, so you can turn it into an all-day excursion.
NOTE ON TELEPHONES
You can phone home in three ways: 1) by pay phone at some, but not all, restaurants and hotels (Anegada, Bitter End, Leverick Bay, Cruz Bay, Roadtown, others); 2) by your cellular; just phone the operator when you get there and set up a temporary account; 3) by VHF radio: call Radio Tortola, and they will relay the call.
VIRGIN GORDA
North Gorda Sound
I love this whole area. Entry is tricky, no matter the direction of your approach. Follow the instructions in your Cruising Guide to the letter. One buoy marking the entrance is very difficult to spot and the other one was missing altogether May 1992 [note: it was there again in October 1993]. The somewhat nerve-wracking entrance is worth it, though. There are several fun anchorages.
Bitter End
Pick up a mooring ball here. We like the north end, close to the little island with the place whose name I can never remember that says "Food/Drink." The windsurfing is good here. Also, you can rent jetskis and sunfish. You can walk across the hill to the Atlantic side. The beach is great, with pretty good snorkeling away from the civilized portions. The Bitter End Resort appears not to care if yachties use any of their facilities. You can book scuba trips at McBride's. There's really a lot to do. The restaurant is overpriced for the quality, but on the other hand, you get a ton of food. In the past, four of us have shared 2 dinners and have done just fine. The best thing to do, I think, is to have Pina Coladas on the terrace at sunset, which is often breathtaking from this viewpoint, and then dinghy across to that little Food/Drink place for chicken curry, followed by after-dinner Painkillers, among the locals and professional sailors who are there recovering from captaining crewed charters. Makes for a more interesting evening than sharing the resort bar with overdressed honeymooners. The Resort has a fascinating salt-water pen stocked with fish, turtles, and sharks–all apparently coexisting peacefully. There's also an outdoor TV amphitheater for those in civilization withdrawal. The resort offers all yacht services, but they will be more expensive here than a couple of minutes away at Leverick Bay.
Leverick Bay
Mooring balls. All services, at reasonable prices. Hair salon (!) and market. Pusser's store and restaurant, with really good pizza, if you're getting tired of the curry/grilled tuna/Caribbean barbecue fare. The beach and water are not very good here, but somehow we like to stop here occasionally.
Drake's Anchorage
Reputedly the second-best restaurant (Sugar Mill is best) in the BVI, but we have as yet not made it across.
Biras Creek
Rumored to be buggy on still evenings, but very pretty and quieter than the Bitter End, with access to the same amenities.
The Baths
Do not miss this spot. Definitely NOT a good overnight anchorage, but a great way to spend a day, snorkeling, rock climbing, and vegetating. We have been lucky enough to get this place virtually to ourselves on several occasions, but a couple of times it has been packed. Even so, we had fun.
We usually anchor not at the Baths themselves, but at the next little bay to the south, Devil's Cay. If another boat has not beat you to it, be brave and pull up right into the little bay itself. As long as someone stays within eyesight, it's worth the small risk of swinging into the rocks. (If you have a stern anchor, set it too and you'll be home free.) You can anchor in about 15 feet on a good-holding sandy bottom. Then you can snorkel around to the entrance of the Baths, walk there overland, or do what we usually do: enjoy the incredible beauty of Devil's Cay, without even bothering to see the tourist attractions.
COOPER ISLAND
Manchioneel Bay
The only viable overnight anchorage we've tried on this island. You can rent scuba equipment here at the dive shop. The little open-air bar and restaurant is relaxing and fun and not bad value, although their curry is mediocre. IMPORTANT: If you plan to overnight here, get here early (at least 3 hours before sunset) to pick up a mooring. If not, you must anchor as best you can on a fairly steep drop-off in limited space. Swinging at anchor is a problem then because so many boats are on a mooring and your rode has to be so long to anchor properly in such deep water. I really hate anchoring in this bay, but we come here often because here and the terrace of the Bitter End are the absolute best places we've found in the BVI to watch awesome sunsets. We saw a sunset here once in which the entire western sky divided itself into perfect adjacent triangles of brightest turquoise, hot pink, neon orange, and gold. No kidding. It was a memory I will keep for the rest of my life.
NORMAN ISLAND
The Byte
Great overnight anchorage. Not terribly pretty scenery, but well-sheltered and close to a couple of fun snorkel/scuba spots. Get about halfway in: too close and the bugs will get you; too far and it drops off to about 50 feet. For some reason, maybe because it tends to get crowded, people always seem to be paranoid about their swinging room in this anchorage. There is a floating restaurant–an old schooner–in a corner of the bay: fun place to spend the evening. This bay is a great place to look at the stars because there are no lights ashore. There are 2 places within dinghy distance to play in the water: the Caves and the Indians.
The Caves
Pull the dinghy right up onto a pebble beach; be careful to row the last distance because of swimmers in the water. Take a waterproof flashlight. The caves aren't very impressive–very shallow and sort of dingy–but the marine life is abundant. We have seen large schools of very tame Angelfish and several eels. It's just a really nice place to snorkel. I wouldn't waste scuba air because it's so shallow, but some people do.
The Indians
If you dinghy over (it's a pretty long way), either anchor the dinghy on (hiss!) the reef or pull it up onto the beach of the little island next to the Indians (I think it's called Pelican Island) and snorkel the rest of the way. All in all, it's easier to anchor the yacht here in about 30 feet of water outside the reef on the way to the Byte. The scuba (only about 40 feet deep at the deepest) has sometimes been excellent here, sometimes mediocre. It's usually a good snorkel spot. Do NOT pass between the Indians and Pelican Island with your yacht, even if it looks as though it might be deep enough. It's not.
NOTE ON UNMENTIONED ANCHORAGES
There are so many places that we have come to love over the last 5 years of sailing here that we haven't gotten around to trying every anchorage because we keep wanting to go back to so many ones we've already seen. Just because I haven't talked about an anchorage doesn't mean that it's not wonderful.
NOTE ON CROSSINGS TO ST. CROIX
We have heard so many people say that it's not worth going to St. Croix that we haven't yet made the short crossing. If you only have a week, I don't think it's worth it, really, to leave the accessible chain of USVI and BVI. There's plenty to do there, especially for first-timers.
Suggested Itinerary for a Week's Bareboat Charter in the British Virgin Islands
If we had a week to see the Virgin Islands for the last time, here's what I would want to do:
Day 1

Day: Pick up boat. Provision in St. Thomas. Rent scuba gear for the week.
Night: Caneel Bay. Immediately into the water to snorkel as soon as anchor is set. Dinner aboard. Dancing in Cruz Bay after sunset.

Day 2

Day: Either hang out in Caneel Bay (maybe go ashore to the resort for brunch) or motor around to Hawksnest or Trunk Bay to sun and swim. Leave around 2:00 p.m. for Tortola.
Night: West End (Soper's Hole). Clear customs. Maybe a little shopping. Drinks on the dock at Pusser's at sunset. Dinner either there or at the Sugar Mill by taxi. Back to Pusser's for dancing if there is a band that night.

Day 3

Day: Weigh anchor as early as possible. Sail all morning to Green Cay. Snorkel and picnic there. Leave before 2:00 p.m. to arrive at Anegada well before sunset.
Night: Anegada. Lobster barbecue on beach. Make arrangements for trip to Loblolly Bay for tomorrow.

Day 4

Day: Go early to Loblolly Bay. Sun, scuba, and snorkel, with picnic lunch or conch stew at the snack bar. Return to boat around 2:00 p.m. and weigh anchor for North Gorda Sound.
Night: Bitter End or Leverick Bay. Pick up a mooring. Dinner aboard.

Day 5

Day: Play in North Gorda Sound.
Night: Bitter End. Drinks at sunset on the terrace at the Bitter End Resort. Curry afterwards at the Food/Drink place on McBride's Island. Drink and sing till late.

Day 6

Day: Leave very early for the Baths after replenishing fresh water and fuel. Anchor at Devil's Cay and take it easy the rest of the day.
Night: Manchioneel Bay or Marina Cay. Watch sunset. Dinner aboard.

Day 7

Day: Either anchor near the Wreck of the Rhone and dive there, or anchor at the Indians and dive there.
Night: Get a good spot at the Byte and dinghy over to the Caves for a late snorkel after everybody else leaves. Dinner at the schooner Restaurant. Stargazing afterwards on deck.

Day 8

Day: Check in with USVI customs at St. John and sail back to St. Thomas.
Have a wonderful time!