***IMPORTANT NOTE: THE INFORMATION ON THIS PAGE IS NOT CURRENT. IT WAS WRITTEN IN 1994. DO NOT RELY ON THE INFORMATION ON THIS PAGE OR ON THIS WEBSITE FOR ANY NAVIGATIONAL PURPOSES WHATSOEVER.***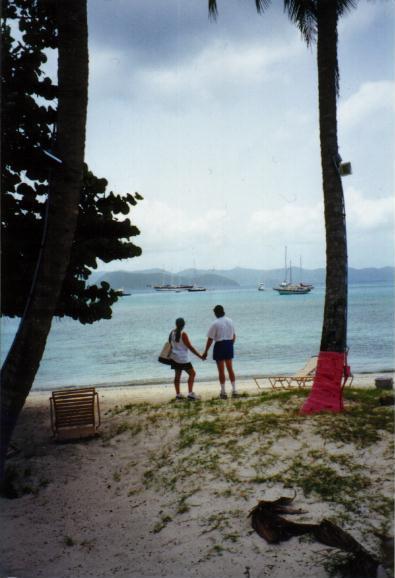 If we had about a week to see the Virgin Islands for the last time, here's what I would want to do.
Have a wonderful time!
Day 1
Day: Pick up boat. Provision in St. Thomas. Rent scuba gear for the week.
Night: Caneel Bay. Immediately into the water to snorkel as soon as anchor is set. Dinner aboard. Dancing in Cruz Bay after sunset.
Day 2
Day: Either hang out in Caneel Bay (maybe go ashore to the resort for brunch) or motor around to Hawksnest or Trunk Bay to sun and swim. Leave around 2:00 p.m. for Tortola.
Night: West End (Soper's Hole). Clear customs. Maybe a little shopping. Drinks on the dock at Pusser's at sunset. Dinner either there or at the Sugar Mill by taxi. Back to Pusser's for dancing if there is a band that night.
Day 3
Day: Weigh anchor as early as possible. Sail all morning to Green Cay. Snorkel and picnic there. Leave before 2:00 p.m. to arrive at Anegada well before sunset.
Night: Anegada. Lobster barbecue on beach. Make arrangements for trip to Loblolly Bay for tomorrow.
Day 4
Day: Go early to Loblolly Bay. Sun, scuba, and snorkel, with picnic lunch or conch stew at the snack bar. Return to boat around 2:00 p.m. and weigh anchor for North Gorda Sound.
Night: Bitter End or Leverick Bay. Pick up a mooring. Dinner aboard.
Day 5
Day: Play in North Gorda Sound.
Night: Bitter End. Drinks at sunset on the terrace at the Bitter End Resort. Curry afterwards at the Food/Drink place on McBride's Island. Drink and sing till late.
Day 6
Day: Leave very early for the Baths after replenishing fresh water and fuel. Anchor at Devil's Cay and take it easy the rest of the day.
Night: Manchioneel Bay or Marina Cay. Watch sunset. Dinner aboard.
Day 7
Day: Either anchor near the Wreck of the Rhone and dive there, or anchor at the Indians and dive there.
Night: Get a good spot at the Byte and dinghy over to the Caves for a late snorkel after everybody else leaves. Dinner at the schooner Restaurant. Stargazing afterwards on deck.
Day 8
Day: Check in with USVI customs at St. John and sail back to St. Thomas.
Fly home.